OUR RESPONSE TO COVID-19
In these extraordinary times, it can feel like we are facing challenges at every turn. But we're a business that's always done things a little differently. Our founder, Anita Roddick, believed in the power of small acts of kindness to make a difference in people's lives. We're implementing important new measures to safeguard our staff and make shopping easier for our customers.
STORE UPDATES
The safety of you and our teams is our priority. This is why we're following government guidelines and temporarily closing some store locations. These restrictions differ across Canada, so we will update this page when changes are announced. While your local store may be closed, Christmas shopping is definitely not cancelled! You can still purchase your favourite body-loving treats or send a gift directly to someone you love by shopping with us online, 24 hours a day, 7 days a week. Our Live Chat is available 9am-10pm EST Monday to Saturday to assist you with any questions you may have. We look forward to welcoming you in our stores again soon. In the meantime, stay safe and well. We're all in this together!
We also offer Call & Collect at a majority of our store locations, a pickup service that allows you to purchase your favourite products swiftly and safely. See instructions by visiting our Store Finder. Some of our temporarily closed stores have also started offering Call & Collect - please see below.
TEMPORARY STORE CLOSURES
*Call & Collect is available at some of our temporarily closed stores – please see below.
Manitoba:
Polo Park (Call & Collect available)
Kildonan Place (Call & Collect available)
Shoppers
St. Vital Centre (Call & Collect available)
Winnipeg Outlet (Call & Collect available)
Brandon Shoppers World (Call & Collect available)
Ontario:
Don Mills (Call & Collect available)
Queen Street East (Call & Collect available)
Bloor West Village (Call & Collect available)
Bayview Village (Call & Collect available)
Bramalea City Centre (Call & Collect available)
Erin Mills Town Centre
Sherway Gardens (Call & Collect available)
Yonge Eglinton Centre (Call & Collect available)
Yorkdale Mall (Call & Collect available)
Fairview Mall (Call & Collect available)
Square One (Call & Collect available)
Commerce Court
Toronto Eaton Centre (Call & Collect available)
Dufferin Mall
Royal Bank Plaza (Call & Collect available)
Scarborough Town Centre (Call & Collect available)
Hillcrest Mall (Call & Collect available)
Devonshire Mall
Markville Shopping Mall (Call & Collect available)
Upper Canada Mall (Call & Collect available)
Vaughan Mills (Call & Collect available)
Lime Ridge Mall (Call & Collect available)
East Gate Square
SAFETY MEASURES IN STORE
The health and wellbeing of all our teams and customers is crucial to us and will always be our number one priority. We've worked with independent health and safety experts to put in place measures to ensure the safety of everyone in our stores when they reopen. Here's what to expect:
1
New store opening hours to help our teams travel safely.
2
We're limiting the number of people allowed instore.
3
In some of our stores, entrance is permitted only to those wearing face covering. Please check with your local government if it's required in your region.
4
Our teams will be following social distancing protocols and our floors will have distancing guidelines.
5
We are cashless and will only be accepting debit or credit at this time.
6
Our teams will still be smiling (as always) but they'll be wearing masks and gloves.
7
There will be no skincare consultations or product demonstrations for the time being.
8
We will be limiting product testing.
Hand sanitizer gels will be available around the store.
We will continue to monitor the situation, doing our best to make the right decisions for our customers, our teams and our communities.
Please take care of yourselves and each other.
ENSURING THE SAFETY OF OUR STAFF
The health, safety and well-being of all our colleagues is crucial to us and will always be a top priority. We've put in place new measures to ensure the safety of our colleagues packing orders in our distribution centres and also with our distribution companies.
We're reviewing the latest government and medical advice and are updating our procedures on a daily basis. We regularly communicate to everyone working in the warehouses, so they understand the new rules for safe working. These include ensuring that employees are working at least six feet apart from each other, reduced team sizes, breaks between shifts and regular sanitization of work areas. We're incredibly grateful to our committed staff who are continuing to support our customers and communities through their work.
DELIVERY AND RETURNS
Stay at home and we'll come to you. Delivery of your online order is now free on orders over $50.*
Our shipping providers are following protocols to ensure safe delivery. Please visit our shipping providers' websites for detailed information: Purolator and Canada Post.
It's worth noting that due to the increased numbers of online orders and the measures we have put in place to keep our colleagues safe, some orders may take a bit longer to be delivered. We hope you will understand, and we will work to get your order to you as soon as possible.
*Terms & Conditions apply.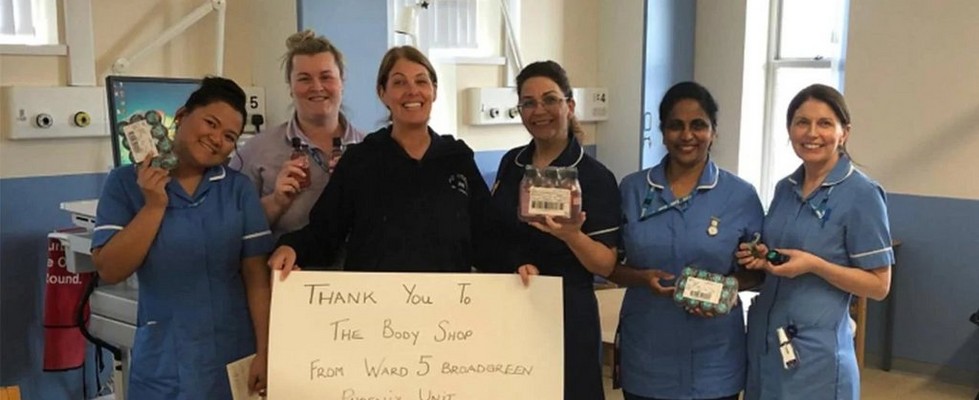 HELPING OUR COMMUNITIES
We are working hard to get donations of our products out to frontline workers across the world and are continuing to find ways to support, help and take care of our communities.
Across North America, our US and Canadian teams banned together to partner with local shelters and senior communities to donate 30,000 units of cleansing products. Donated products included hand wash and soap.
ACROSS THE GLOBE
OVER 1 MILLION PRODUCTS DONATED
It's thanks to the tireless commitment, talent, strength and selflessness of our incredible healthcare workers across the world that we can take some comfort during such challenging times. We want you to know how much we appreciate you, so we've donated £4.5 million worth of products globally to support nurses, doctors, support staff and volunteers. Our care packages include shampoos, conditioners and shower gels to help staff feel refreshed on shift, as well as post-work pamper treats and hand creams for fingers that feel thirsty from frequent washing. Our gratitude to frontline workers grows greater each day but for now, we hope a little act of kindness will help provide them with even the smallest amount of respite while they go to extraordinary lengths to keep us safe.
As an added THANK YOU to our frontline workers, The Body Shop Canada and US teams are excited to announce that we have made an additional donation of nearly 50,000 necessary products to local hospitals, food banks, and homeless shelters across our countries.
WE'RE HERE TO HELP
Whether you need a routine to calm your mind, body and soul, some skincare advice or recommendations for the perfect gift, thebodyshop.com is open around the clock and has a wealth of tips, advice and how-to guides.
Our Live Chat is available for order support between 9am-10pm EST Monday – Saturday, or you can contact our customer care team by email or telephone. Please expect a short delay in our response from the team as we're expecting a higher volume of inquiries than usual.
We love hearing from you, and now more than ever. Don't forget to keep in touch with us on social media, always tagging @thebodyshop to make sure we see your message. Stay in touch!